"Since 2006. Building Skills for A Lifetime"
671-647-4842

506 Marine Ave. Barrigada GU 96913
Soil and Sediment Control Students Receive Certificates
March 18, 2022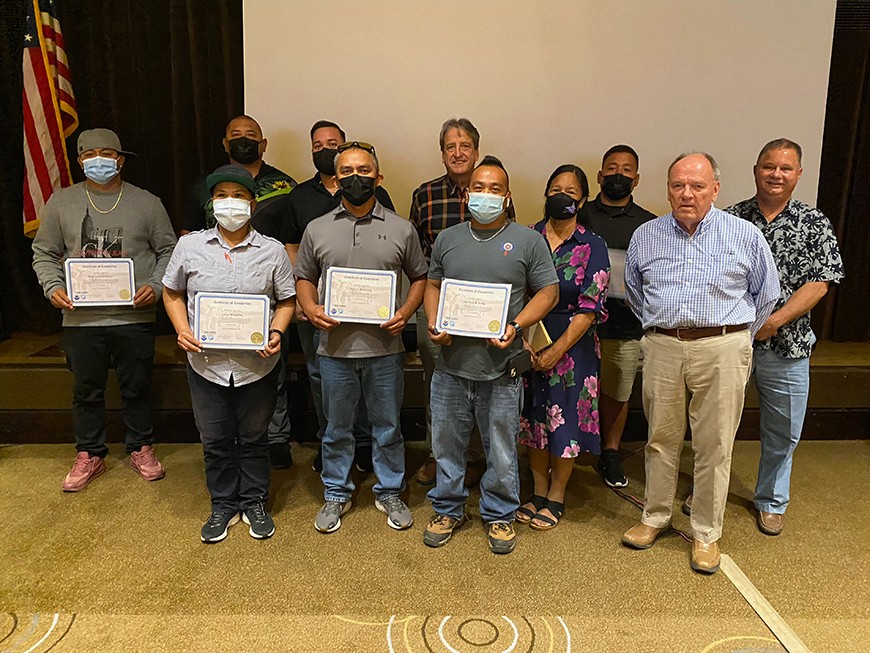 On Wednesday, March 16, during the Guam Contractors Association monthly membership meeting at the Westin Resort, the GCA Trades Academy presented 8 level completion certificates for its recently completed soil and sediment control class.
The class is a partnership between the National Oceanic and Atmospheric Administration, Guam Environmental Protection Agency and the GCA Trades Academy.
The GCA Trades Academy worked with NOAA to locally produce a textbook with local photos and locations. The class teaches that erosion at construction sites on Guam, even if temporary, can be a significant source of sediment loading to lagoons, which harms coral reefs, sea grasses, fisheries, and impacts recreational uses. A critical part of the construction process is to properly plan for and prevent erosion and the subsequent discharge of turbid runoff from the site during all phases of work. The class module explains erosion and sediment control (ESC) measures, how they work, and how to install and maintain them. Students learned how to evaluate the effectiveness of ESC on site, diagnose problems, and identify solutions to minimize offsite impacts.