"Since 2006. Building Skills for A Lifetime"
671-647-4842

506 Marine Ave. Barrigada GU 96913
Register now for crane operation classes at the GCA Trades Academy
January 11, 2023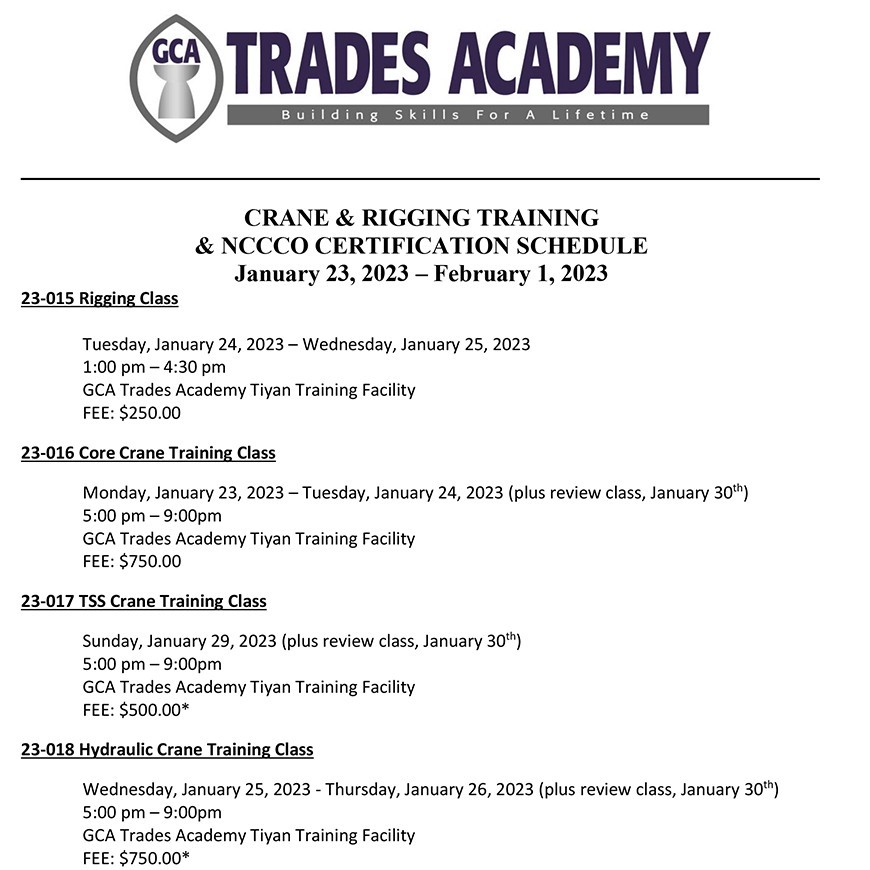 For those on Guam who are interested in construction and willing to learn, the GCA Trades Academy will be conducting its next National Commission for the Certification of Crane Operation (NCCCO) classes Monday, January 23 through Wednesday, February 1, 2023.
Participants will experience classroom and academic training, as well as practical, hands-on training during this course.
The military buildup on Guam brings new opportunities to men and women looking for a career with a rewarding future. There are too few skilled cranes operators on the island. Crane operations skills can be taught and jobs are currently available for crane operators.
PRIOR ONLINE REGISTRATION IS REQUIRED. Register at https://my.ccocert.org
Classes begin the evening of Monday, January 23, with the practical examinations beginning Thursday, January 26 through Sunday, January 29. Fee for practical exam is $250.
Schedule of classes and more information here.
The written examinations are Wednesday, February 1, 2023. Fees range from $60 to $120 depending on the examination taken
For more information, please contact the GCA Trades Academy, (671) 647-4842/3.